"Windowpane Rain" 9'x3'x6" | SOLD, Commission Work Availble | Fiber Artist, Door County, WI | Boho Chic Decor
Regular price
$4,200.00 USD
Regular price
Sale price
$4,200.00 USD
Unit price
per
Sale
Sold out
Share
Boho Chic Decor woven wall tapestries and sculptures by Wendy Carpenter
Wendy Carpenter's hand-woven wall tapestries and sculptures capture the emotion and power of nature by abstracting the natural world. She is a mixed media fine art of fiber artist, incorporating natural found objects and repurposed materials.
"Windowpane Rain" fiber art wall hanging is constructed with linen and gold metallic thread fabric hand woven by Mertha Fulkerson in the 1940s. I found this beautiful fabric at the bottom of an enormous basket of misc textiles given to me by the Clearing Folk Art School. I couldn't use most of the fabric in the basket, but this large yardage quantity of amazing hand-woven fabric was a treasure!
In a Bohemian style, it captures the new growth of Springtime and the soft rain against the windowpane.
The four handwoven layers, 9' long by 3' wide, are interlaced with bamboo and mounted on 9" steel wall brackets. The 3-D wall hanging improves home acoustics and softens the home decor. Windowpane Rain fiber art hanging has a graceful movement in between the layers with the slightest breeze!

For details about shipping and visiting our Gallery in Door County, click here.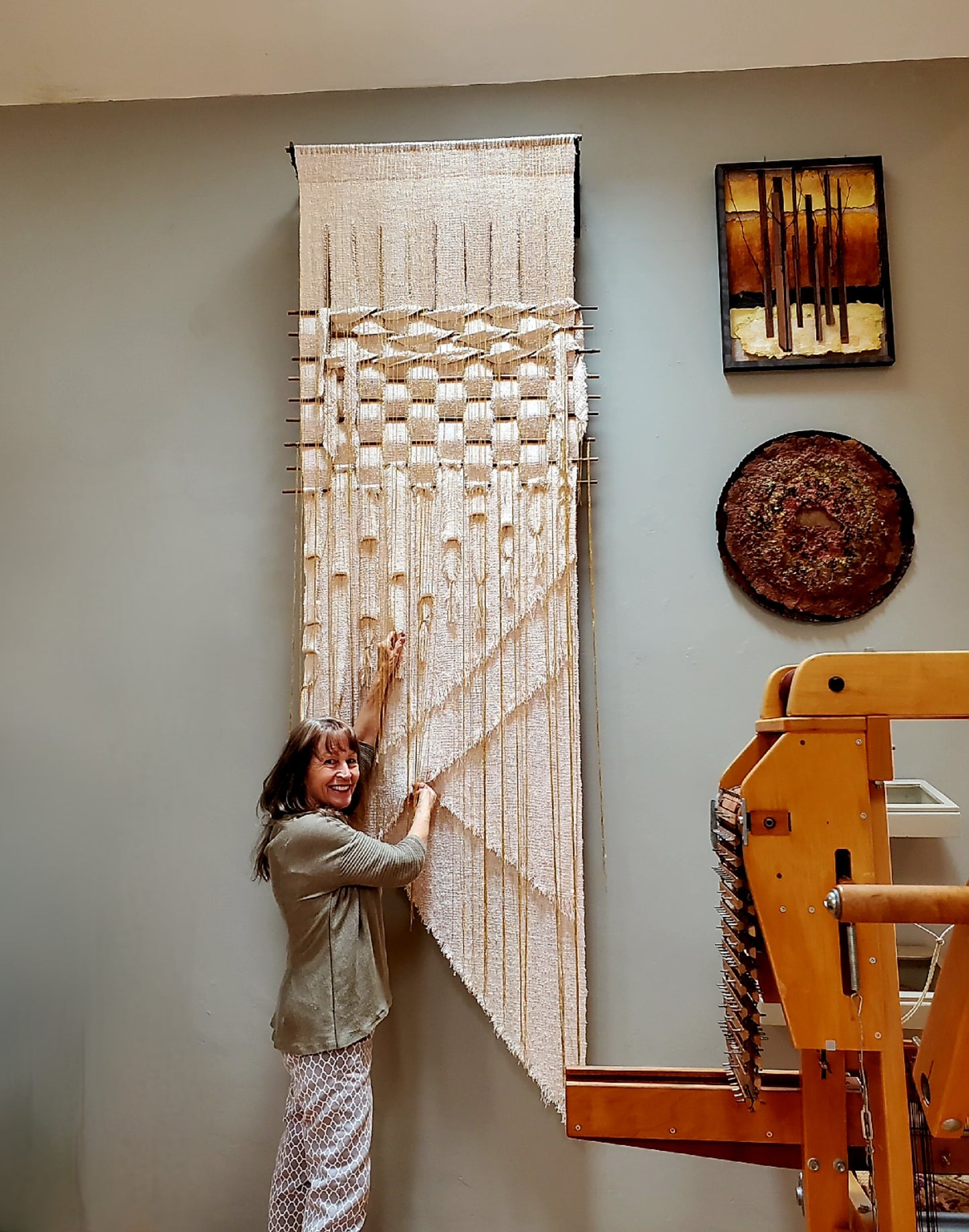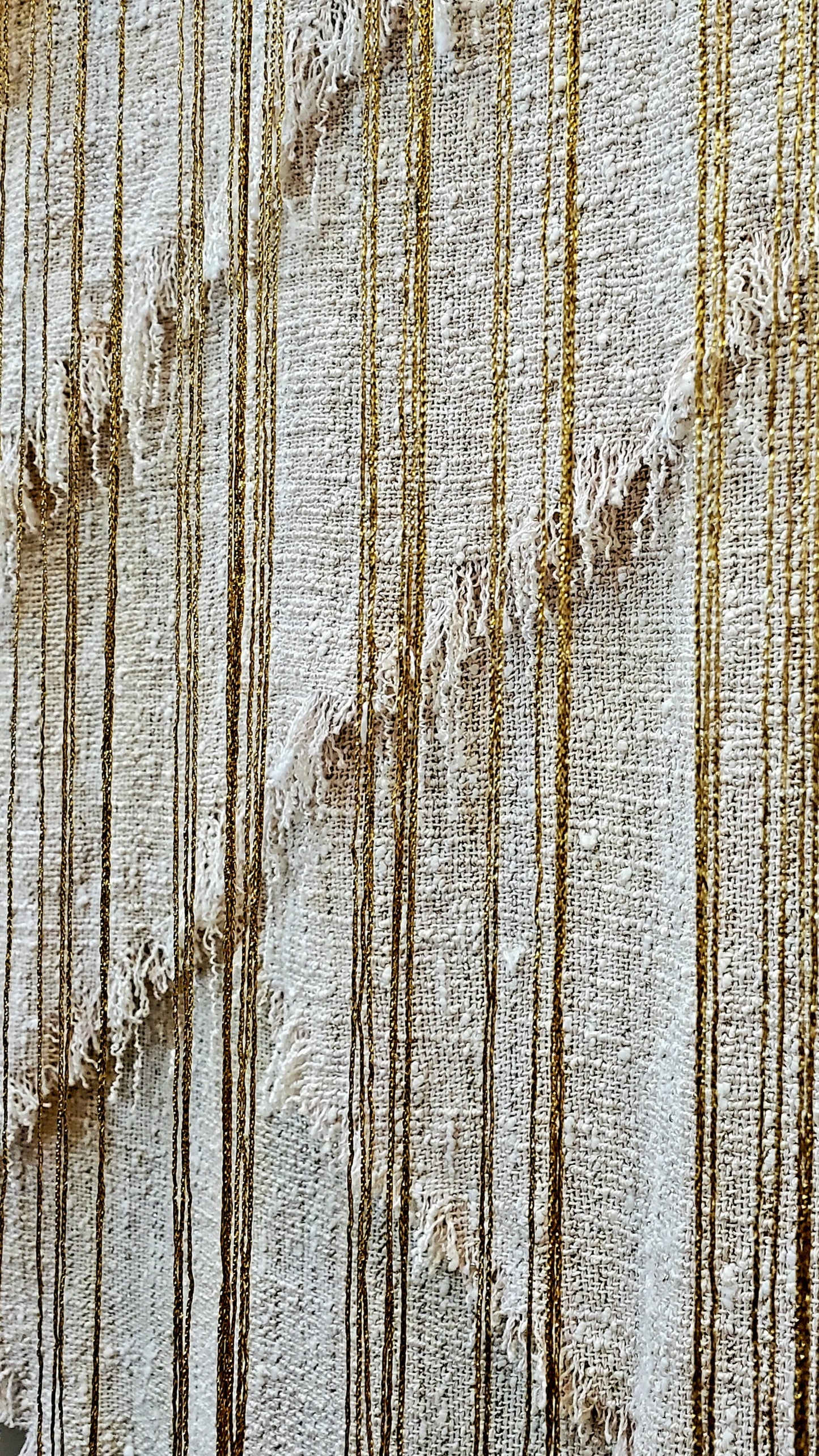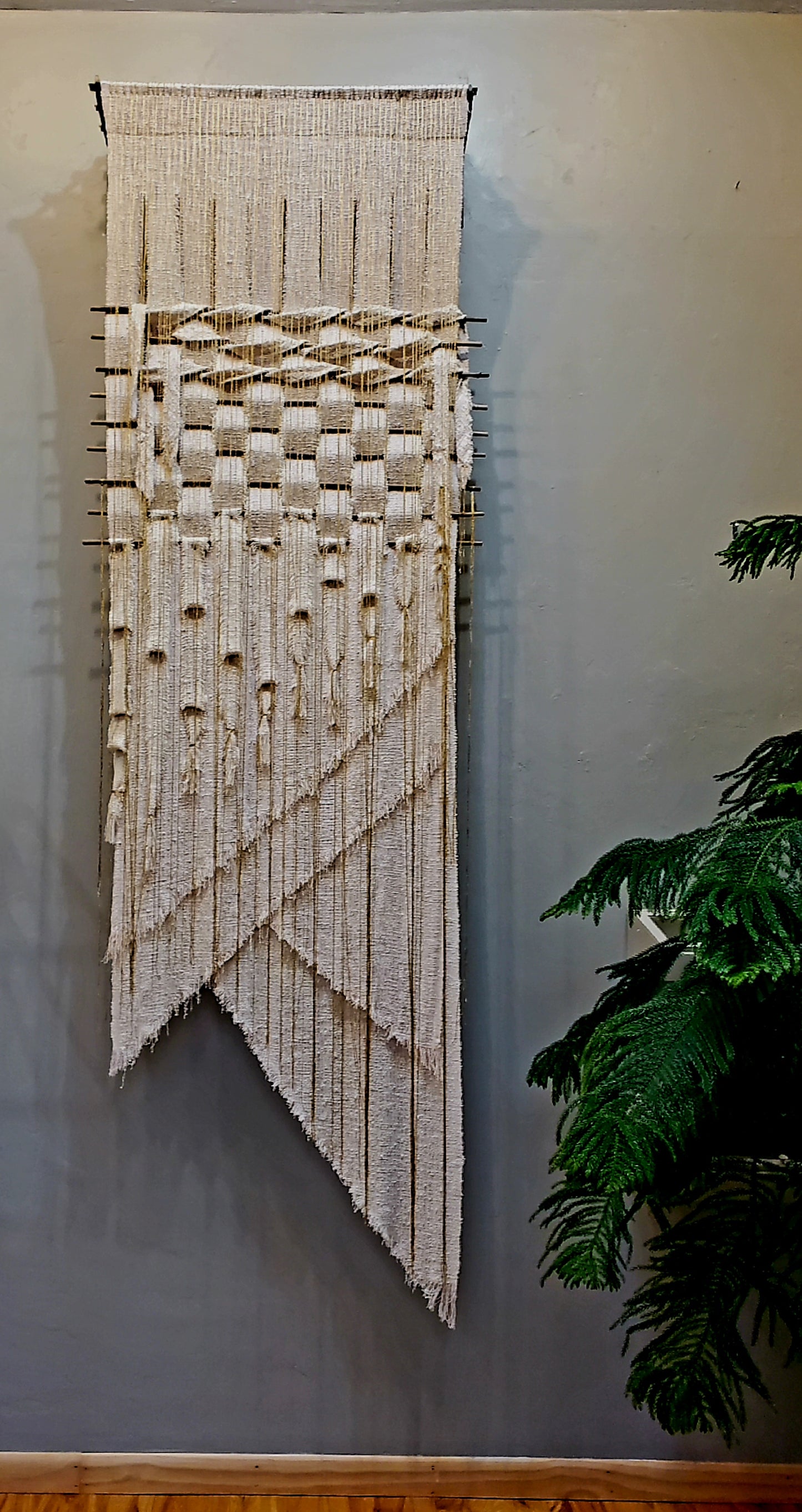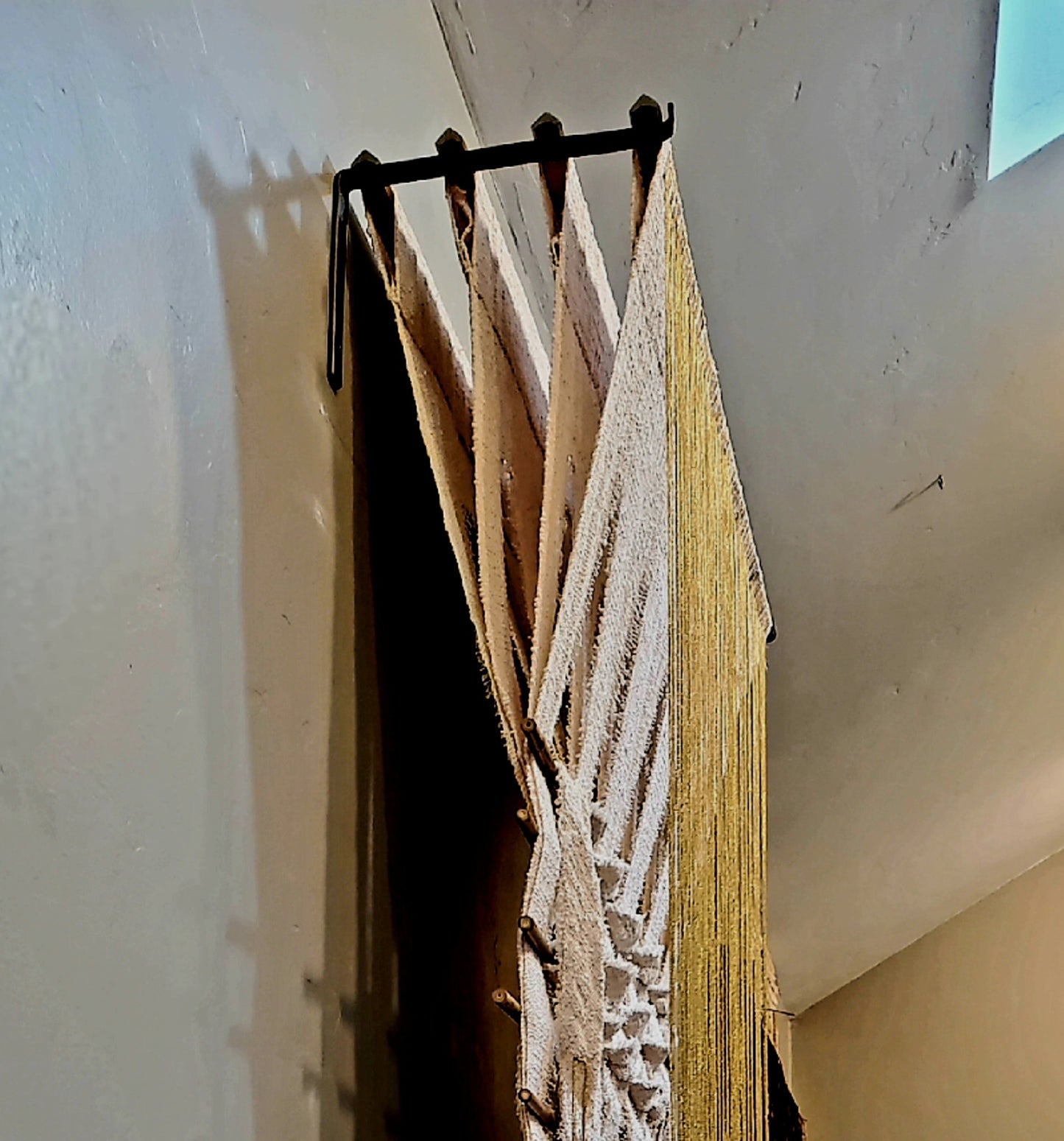 Time Lead

Each piece has it's own difficulty, our mission is to dive through the process with you. Starting from the conceptualization until we see the piece hanged in your wall.

Shipping

Contact the artist for shipping details and ordering custom pieces.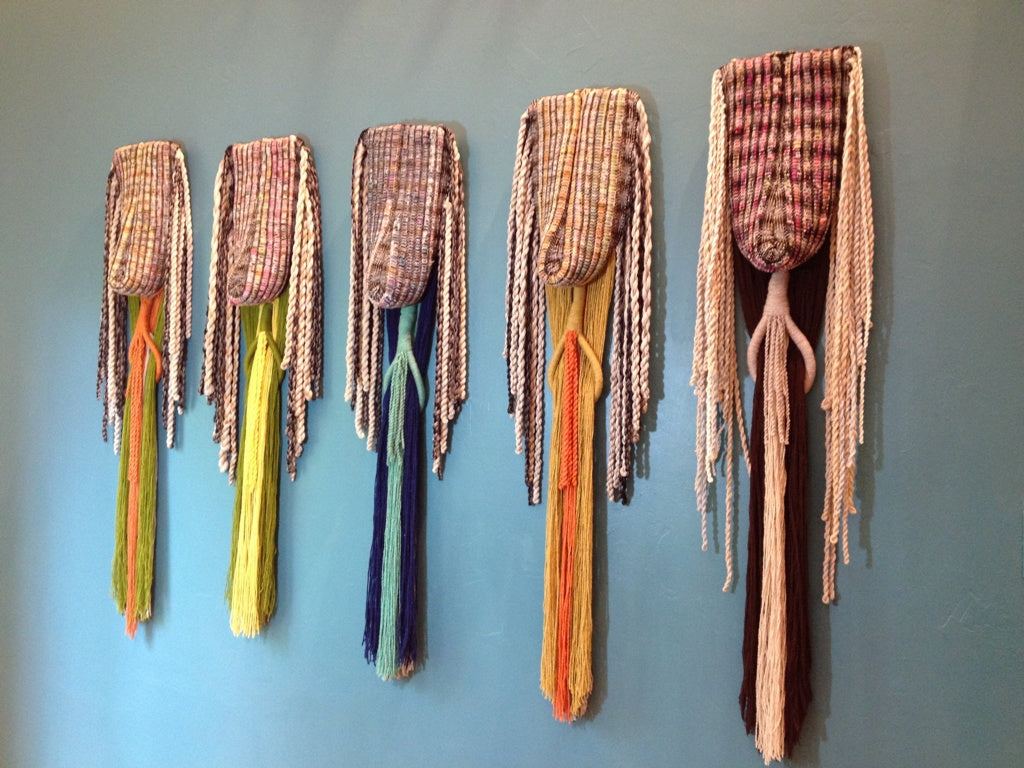 Custom artworks available in Door County Winsconsin and all over the US.
Fiber Wall Hangings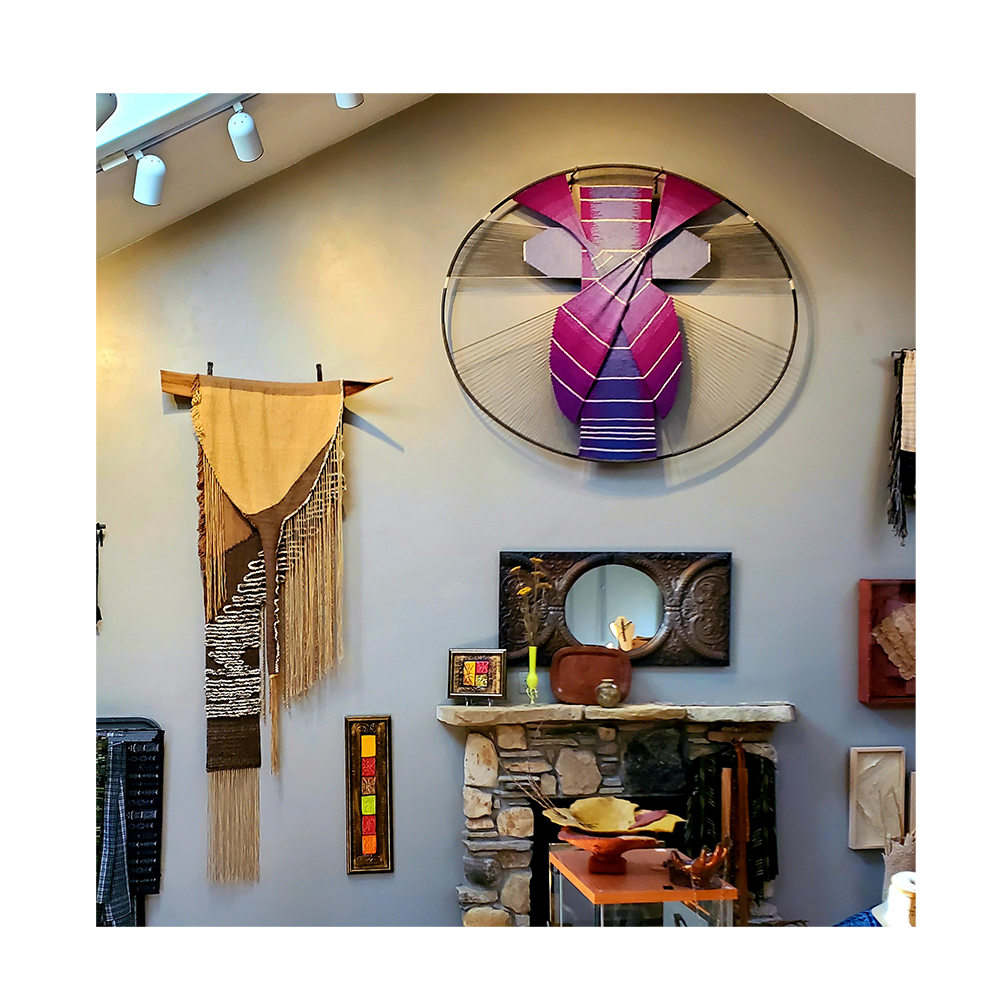 Order your Custom Art Piece Now
The soulful people will always try to fill their spaces with memories, textures, love.
Nature evokes all sensations needed in these helter-skelter days. When you come back home to find your center, being received by cozy and meaningful art pieces will remind the way you are weaving your destiny, your own path.